Simisola Bolatito Ogunleye
a.k.a
Simi
is a Nigerian singer, actress, songwriter, sound engineer and record producer, Simi biography and net worth will feature her early life, education, career, awards, love life and every other detail about the talented singer.
There is no doubt that Simi is one of the top loved singers in Nigeria, as a female singer in Nigeria she has achieved a lot and her songs have been known to be evergreen.
Simi is well brought up by her lovely parents and morals instilled in her which reflects in the kind of music she sings and how she relates with people, also she isn't a social media freak like other singers that bring their whole life on social media.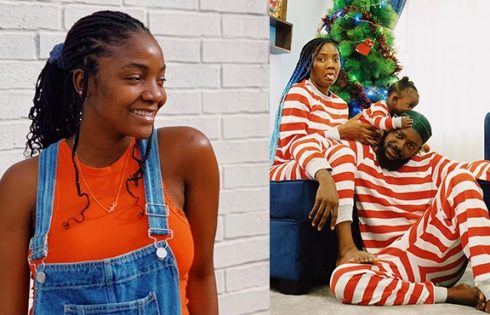 For a personality like hers, she deserves to be respected and rewarded for her positive efforts in entertaining Nigerians with her songs which are filled with hope.
Simi is a very popular afro-pop singer and has gained both local and international recognition as her songs are mostly played on radio stations and television channels.
The vibes her music emmit cant be compared to other female singers in Nigeria as she sounds so unique with a sweet voice, in addition to her sweet voice and talent she is also one of the most beautiful female singers in Nigeria.
Without further ado, let us take you through Simi's profile, below is a quick profile of Simi Kosoko.
Simi Profile
| | |
| --- | --- |
| Full Name: | Simisola Bolatito Ogunleye |
| Popular Name: | Simi |
| Date of Birth: | 19th of April, 1988 |
| Place of Birth: | Ojuelegba - Surulere, Lagos, Nigeria |
| Nationality: | Nigerian |
| State of Origin: | Ondo State |
| Education | Covenant University |
| Married to | Adekunle Gold |
| Children: | Adejare Kosoko |
| Occupation: | Singer, actress, songwriter, sound engineer and record producer |
| Net worth: | $10 million |
Having seen Simi profile it will interest you to know more about her, let us go straight to the topic of the day which is centered on the full biography of Simi and her net worth with other facts.
Early Profile
Simi was born on the 19th of April 1988 into the family of Mr & Mrs. Ogunleye as the last child among four children, she is the only female among her siblings.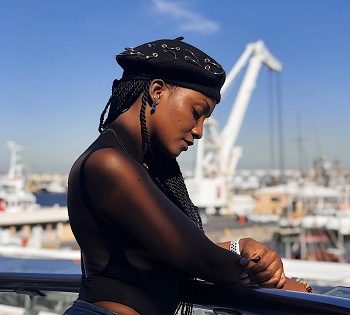 Her full name is Simisola Bolatito Adeola Opeyemi Oreoluwa Ogunleye, she was born in Ojuelegba in the Surulere area of Lagos State. She was also raised in the same area but unfortunately, her parent divorced when she was 9 years old.
Simi is originally from Ondo State in the South-Western of Nigeria, she was raised by her mother and shows her love for music right from her kid days.
Simi is an educated young lady, she attended Stars International College in Ikorodu Lagos State and then furthered her education to the tertiary institution Covenant University obtaining a Bachelor's Degree in Mass Communication.
Career
Simi career started early, she started writing songs when she was at the tender age of 10, as a Christian she attends and participates in church activities, she joined the church choir and gets herself involved in singing and drama acts.
Her activities in the church do reflect in her life, she was well influenced and this has been the beginning of her career in the entertainment industry.
Simi's journey into music started pretty young as a chorister in the church at the age of 16 though not officially, as a choir member she was opportune to train herself and kickstart a music career due to her church background.
In 2008, Simi released her first song "Ogaju" which is a gospel song, few years after the release of her first song Simi stormed the circular music industry, though her songs are still in line with morals, some love related and some just random and since then she has been proliferating.
Simi came into the limelight in 2014 after she signed with X3M Music of which she released "Tiff" which gained prominence and got Nigerians alert about her talent.
The song "Tiff" was nominated by The Headies in 2015 for "Best Alternative Song", in 2017 she released another banger "Simisola" which is an award-winning studio album.
Not getting tired in 2019 she released her third album titled "Omo Charlie Champagne" which coincides with her thirty-first birthday on the 19th of April.
In June 2019, Simi launched her record label "Studio Brat". Simi is currently in partnership with Platoon and has released a lot of songs to her fans and at the same time, her fame has been growing her social media fan base.
As a top singer in Nigeria Simi has released numerous songs which are evergreen, some of her songs; Tiff, Jamb Question, Love Don't Care, Smile For Me and also she has featured with top music artists in Nigeria the likes of Falz (Soldier), Adekunle Gold (No Forget), Legendury Beatz (Orire), Ebenezer Obey (Aimasiko) and many other top singers.
Aside from singing Simi is also a good actress, she starred in Kunle Afolayan's movie "Mokalik" and has been receiving acting offers from other movie producers.
Due to her consistency, talent and love got from Nigerians, on February 10, 2017, Simi bagged an endorsement deal with Etisalat a Nigerian telecommunication company and also in 2018 she was the brand ambassador of one of the worlds top browser Opera Mini.
Relationship: Who is Simi married to?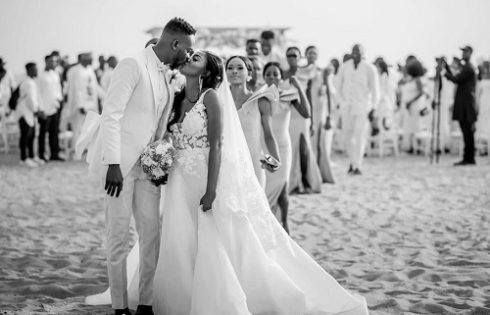 Simi is the heartthrob of Nigerian popular musician Adekunle Gold, they got married on January 9, 2019. We got to know this relationship didn't start all of a sudden, the duo has been dating for over 5 years before they tied the knot.
On the 30th of May 2020, the couple got blessed with their first daughter named "Adejare Kosoko".
Awards & Recognition
The biography of Simi and her net worth wouldn't have been complete without mentioning her rewards (Awards), for her hard work and keeping the quality intact she sure deserves to be rewarded and below is the list of her awards.
Nigeria Entertainment Awards honoured her as the Most Promising Act to Watch – 2015.
City People Entertainment Awards honoured her as the Most Promising Act of the Year – 2015.
Female Artiste of the Year at the City People Entertainment Awards – 2016.
Choice Upcoming Female Artist at the Nigerian Teen Choice Awards – 2016.
Love Don't Care won the Best Vocal Performance (Female) – 2017.
Best Collabo of the Year at the City People Entertainment Awards – 2017.
Best Collaboration at the Headies for (Soldier with Falz) – 2017.
Songwriter of the Year at the AFRIMA Awards – 2017.
Best R&B single at the Headies – 2018.
Best Recording of the Year at the Headies – 2018.
Aside from the awards listed here, Simi has numerous nominations too, he career has been wonderful and the future still remains bright for her.
Simi Albums
Ogaju – 2008
Simisola – 2017
Omo Charlie Champagne, Vol. 1 – 2019
Duduke – 2020
TBH (To Be Honest) – 2022
Her Song Duduke by her record label "Studio Brat" became the main song for weddings and anniversaries after the release, the song is so captivating and rich and accompanied with quality instrumentals.
Simi Songs
These are selected songs of Simisola consisting of EP/Singles:
Ara Ile' (Ogaju) – 2008
Emi L'Onijo – 2012
Take a Chance – 2012
Chocolate Brown – 2012
Don't Judge Me (cover) – 2013
Bibanke (cover) – 2013
Marvin's Room (cover) – 2013
Tiff (Simisola) – 2014
E No Go Funny – 2014
Jamb Question (Simisola) – 2015
Jamb Question Remix (featuring Falz) – 2015
Open and Close – 2015
Love Don't Care (Simisola) – 2016
Smile for Me – 2017
Joromi – 2017
I Dun Care (Omo Charlie Champagne), Vol. 1 – 2018
Lovin (Omo Charlie Champagne), Vol. 1 – 2019
Ayo (Charlie Champagne), Vol. 1 – 2019
Aimasiko (featuring Ebenezer Obey) – 2021
Her project with Chief Commander Ebenezer Obey at the 14th Headies Remix Performance has been one of the best ever performances in the history of music in Nigeria. Check out the Hip TV video below.
Simi Net Worth
Simi's current net worth is estimated to be about $10 million, her earnings are attributed to income from her songs, performance, movie, endorsements and many more.
Facts About Simi
We feel it will be cool to know some facts about the talented Nigerian songstress, aside from Simi biography and net worth below are other interesting facts about her.
1. Jovial
Simi is a very jovial person, her laughter is the type to die for as it will capture your heart, mind you this is a natural thing that can't be faked.
2. Voice
You need not be told when you pass across a place and you hear her sing, even without seeing her physically you can easily tell who is singing, her voice is so unique and icy, you won't get tired of hearing her sing.
3. Playful Nature
There is no dull moment as long as Simi is around you, she plays a lot and also in a mature manner. She is also funny, if you are a follower of Simi on Instagram you can attest to this.
4. Fashion Sense
Simi is a gorgeous lady with a unique and simple fashion sense, everything looks good on her, petite and pretty to the core, want to dress simple and remain beautiful? Pay attention to Simi.
Source: naijaxtreme.com